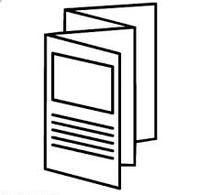 Illustrated pamphlet printed by the United States Department of Agriculture that provides nutritional information, specifically the types of foods to eat to prevent Pellagra. Pellagra is a disease resulting from malnutrition that was common in Appalachia in the 1930s.
Why It Matters
The AWH met the geographic and public health challenges of Appalachia through a holistic approach that went beyond medication and mass vaccinations and inoculations. The AWH, with the help of the local community, displayed educational information in public places, presented educational lectures, built clean and safe latrines and wells, promoted maternal health, and launched an aggressive nutrition education campaign. Although printed by the U. S. government, this pamphlet, with its engaging illustrations and clear, simple language represents the type literature the AWH distributed in the community in attempt to educate residents about healthy foods and their role in preventing disease.
Loading the Internet Archive BookReader, please wait...
Analyze this evidence
What is the purpose of this pamphlet? Who was it created for/was its intended audience? Why? Cite at least one specific example of the text and/or design of this pamphlet to support your answer.
PROTECT YOURSELF FROM PELLAGRA BY EATING THESE FOODS: MILK; ALL FORMS LEAN MEAT, POULTRY BEEF, PORK, LIVER, CHICKEN, OR FISH; FRESH, CANNED, DRIED TOMATOES. USE MILK DAILY AND THE OTHERS OFTEN. CHEESE, EGGS, PEAS, BEANS, WHOLE CEREALS, AND SOME LEAFY AND OTHER VEGETABLES ALL ADD THEIR BIT OF PROTECTION. ALTHOUGH THEY ARE NOT RICH AS THE FOODS LISTED ABOVE, THE GARDEN, THE COW, THE PIG, AND THE HEN PROVIDE MOST OF THESE AT LITTLE COST UNITED STATES DEPARTMENT OF AGRICULTURE EXTENSION SERVICE THIS FAMILY COMPLAINED ALL WINTER THE CHILDREN STAYED AT HOME FROM SCHOOL THE GROWN-UPS FELT TOO SICK TO WORK AND IN THE SPRING SOME HAD PELLAGRA BECAUSE THEY HAD NOT EATEN ENOUGH MILK, CHEESE, LEAN MEAT, POULTRY, FISH, TOMATOES, OR GREENS. THEY HAD NO COW, NO PIGS, NO HENS, NOT EVEN A GARDEN! THEY THOUGHT FAT MEAT, CORNMEAL, AND MOLASSES ALONE WOULD KEEP THEM WELL BUT IT DIDN'T! THIS FAMILY FELT FINE ALL WINTER. THE CHILDREN LOST NO TIME FROM SCHOOL. THE GROWN-UPS FELT LIKE WORKING AND IN THE SPRING NOT ONE HAD PELLAGRA BECAUSE WITH THEIR FAT MEAT, CORNMEAL, AND MOLASSES EVERYDAY. THEY ATE: MILK, POTATOES, CABBAGE, GREENS OR OTHER VEGETABLE, SOME FRUIT, OR MORE VEGETABLES SEVERAL TIMES A WEEK; LEAN MEAT, FISH, EGGS, OR CHEESE, TOMATOES, DRIED BEANS OR PEAS, SOME WHOLE OR GROUND WHEAT THEY GAVE THE CHILDREN; SOME MILK AT EVERY MEAL, A LITTLE TOMATO JUICE EVERY DAY, EGGS WHEN THEY COULD AFFORD THEM. THIS BALANCED DIET HELPED TO KEEP THEM WELL. IF YOU BUY YOUR FOOD, THIS ORDER WILL INTEREST YOU. IT WILL KEEP A GROWN PERSON IN GOOD WORKING CONDITION AT VERY LOW COST: Milk, fresh..............2 ½ quarts; or evaporated, 2 ½ pounds or dry skim, ½ pound; Canned salmon, lean meat, eggs, or cheese: 1 pound; Potatoes (Irish or sweet): 5 pounds; Onions: several; Cabbage, greens, carrots, turnips, et cetera: 3 pounds; Canned tomatoes: no. 2 can; Dried beans or peas: 1 ½ pounds; Fat meat, lard, bacon, et cetera: 1 pound; Cornmeal, flour, whole wheat, rice, grits: 5 or 6 pounds; Molasses: 1 ½ pints; or molasses 1 pint, sugar ¼ pound. IF SKIM MILK IS USED, ADD 3 OUNCES OF BUTTER OR I TABLESPOONFUL COD-LIVER OIL. BUY THE SAME KINDS OF FOOD FOR THE CHILDREN. THE YOUNGER CHILDREN WILL NEED LESS THAN GROWN-UPS. GIVE EACH CHILD 3 CUPS OF WHOLE MILK AND A LITTLE TOMATO JUICE EVERY DAY. GIVE HIM SEVERAL EGGS A WEEK. WHEN YOU CAN AFFORD IT THIS RATION CAN BE IMPROVED BY USING MORE OF ANY OF THE FOLLOWING FOODS: MILK; BUTTER; EGGS; LEAN MEAT, FISH OR CHICKEN; GREENS, OTHER VEGETABLES AND FRUITS; WHOLE GRAINS; WHEAT GERM OR RICE POLISH.