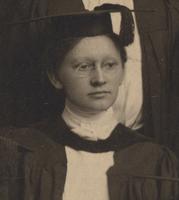 A letter from Dr. Anna Degenring to Dr. Martha Tracy, who was also the Dean of Woman's Medical College, asking for aid in the Vellore, India, hospital and medical school.
Why It Matters
Degenring began her work at American Baptist Mission Hospital for Women and Children. In 1909, its founder, Dr. Ida Scudder, began a training program for nurses, and in 1918, she began training women doctors at the Union Mission Medical School for Women in Vellore. Degenring was a professor, and her letter to Martha Tracy emphasizes the need for not only funding for medical missions in India, but also a great need for women physicians.
Loading the Internet Archive BookReader, please wait...
Analyze this evidence
As a professor, Degenring taught Indian women the prevention and care of children's diseases. Why does she feel it was important to train Indian women as doctors?
What are some of the difficulties faced by women working as doctors or studying to become doctors in India?
Why is Degenring writing to Martha Tracy at Woman's Medical College for help? What kind of help is she asking for? Who else has helped the women doctors in India?
Listen to this document read aloud
Loading JW Player...
My dear Martha, I am writing for a very special purpose is to find out whether you know anything about our Women's Medical College in South India started two years ago and if not I want to get the medical women of Philadelphia interested. The Medical College for Women was very much needed in South India. Ludhianna is a five days journey by train – which makes it expensive; - the climate is different. The habits of living are so unlike the ways of us Southern people that it was hard to get any one to go so far away. I am here just temporarily, to fill in til two doctors arrive at the end of the month. Then taking physiology and Materia Medica and hygiene and am enjoying it very much. We have a fine lot of girls – 30 in all. The school is small now because the Government has changed the time of entrance to January and this is just the between time. They are expecting a class of 30-35. You see that will make quite a school. Dr. Katherine Scott is expected in November and with an English doctor who is coming there will be five professors. The Dutch Reform Church has given 150,000 rupees for a new hospital and the Baptist Board had given 150,000 rupees for buildings. Government of course will do nothing. What is need are teachers and equipment. Why Martha, it is pitiful to see what they are working with - no reference library - only a few microscopes - no charts or models - no manikin for obstetrical work. Thirty-seven of the girls went up for the government examination a few months ago and thirty passed. Not bad for India. Now Martha what I want is this – I want you to help me to bring this College to the attention of our Medical Women and perhaps we can get some help. If India is ever to be lifted it can only be done through their own people and nothing so appeals as medical work. And India needs help. Yours affectionately, Anna Degenring