Explore what it was like to be a student at Woman's Medical College at the turn of the 20th century
The late 19th and early 20th centuries were times of major societal change in the United States, and these decades are referred to as the Progressive Era. Those who supported the Progressive movement pressed for reform in local government, public education, medicine, finance, and industry. In addition, they advocated for temperance, women's suffrage, and women's dress reform.

During the mid-nineteenth century, women began to campaign for freedoms they had been denied. Oberlin College in Ohio became the first co-educational school in the United States in 1833. The first college for women, Mount Holyoke, in Massachusetts, was founded in 1838. In 1848, the first women's rights convention took place in Seneca Falls, New York. In 1849, Elizabeth Blackwell became the first woman to earn a medical degree, from Geneva Medical College. The Woman's Medical College of Pennsylvania, founded in Philadelphia in 1850, was the first medical school established specifically to train women as physicians. In the decades following the American Civil War, those advocating for women's rights became more active: In 1869, Susan B. Anthony formed the American Woman Suffrage Association; in 1903, the National Women's Trade Union was formed to advocate for better wages and working conditions for women; and by 1910, Colorado, Utah, Idaho, and Washington allowed women the right to vote.

Although more women began to seek out formal education and professional work in the 19th and early 20th centuries, far fewer women attended college then as compared to today. In 1870, less than 1% of all American women were enrolled at a college, although by 1900, that number had risen to nearly 3%. By 1900, there were nearly 10 women's colleges across the United States, and many more – most in the Midwest – co-educational colleges. Women were admitted into several medical schools in the United States. By the 1890s, The Woman's Medical College of Pennsylvania (WMCP) in Philadelphia typically had anywhere from 150 to 190 women registered for courses each term. In 1892, a woman named Laura Heath Hills enrolled at WMCP. She was born March 1, 1872, in Willimantic, Connecticut, and was the youngest of four children. She earned her medical degree from WMCP in 1896, and did postgraduate work at Harvard Medical College, studying pediatrics. Dr. Hills documented her time at Woman's Medical College through a scrapbook, which contains photographs, lecture cards, and letters – all of which allow people today to see what it was like being a female medical student at the turn of the 20th century. Amid the intense four years of medical study, these young women who lived and worked together closely made time for socializing, fun, and humor among the heavy load of exams and dissections. Their academic and social pursuits both formed a unique sense of belonging and support in this small community of women whose educational and professional ambitions were extraordinary and rare at the time.


Essential Evidence
Use these
primary sources

to understand the facts of this story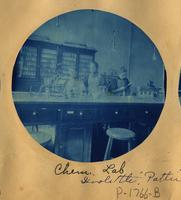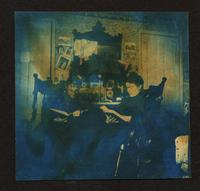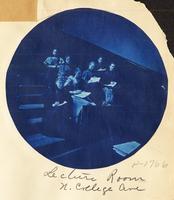 Consider these questions
What can you learn about the past by looking at photographs and scrapbooks? How is what you learn by looking at photographs different from what you learn by reading textbooks? Why?
Laura Heath Hills was not wealthy or famous. Many times, history is told through the accomplishments of well-known people and often these people are men. What is important about the history of someone not in the public eye?
Think about your experiences with school and those of friends and family members. What kinds of experiences do you remember most – academic or social? How do you record your memories now in the 21st century? What is your version of Laura Heath Hills' scrapbook?
Has the opportunity for higher education changed for women since the turn of the 20th century? If so, how? What has or has not changed for students since the turn of the 20th century?