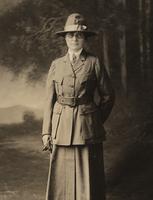 A report concerning the situation in Luzancy, France, after the armistice, made by Dr. M. Louise Hurrell to the Executive Committee of American Women's Hospitals. The American Women's Hospitals (AWH) developed from the War Service Committee of the Medical Women's National Association (later, American Medical Women's Association) in 1917 to provide, register, and finance American women physicians in order to aid those affected by World War I and provide medical and emergency relief to refugees. Dr. M. Louise Hurrell was the second director of the American Women's Hospitals. She took the position in November 1918, and ran the hospital at Luzancy until it moved to Blérancourt in June 1919. She remained director until August 1919.
Why It Matters
Working conditions continued to be difficult for the AWH doctors even after the war had ended with the armistice of November 1918. Transportation was especially important, and the impact of the poor access to railroads, cars, etc. in post-war France severely impacted the work of the AWH. Additionally, while the returning French doctors did not seem happy about the presence of the AWH, the villagers and mayors realized that the AWH had saved many communities from complete devastation and welcomed their aid.
Loading the Internet Archive BookReader, please wait...
Analyze this evidence
What are some of the transportation problems faced by AWH and how do these issues impact AWH operations?
Why is there tension between some French [male] doctors and AWH? How is this issue resolved?
Listen to this document read aloud
Loading JW Player...
To the Executive Committee: We are awaiting at Luzancy this afternoon the arrival of the three new members, Dr. Kinney, Dr. Ward, and Miss Clark, also the new chauffeur, Miss Caldwell. I shall be especially glad of Miss Caldwell as our other girls are worn out and must be relieved. The question of transportation in France at the present time is in such a condition that we have not for weeks been able to use the railroad for anything; food, Red Cross supplies, all must come by camion [bus]. The autos are in France but so far we are unable to get hold of them…I am told that it would be no use to send our chauffeurs to Bordeaux as there are no means of assembling the cars nor of unboxing, for all the cars must remain on the wharf until they are transported by train to Paris. I now come to the most exciting and important part of my letter. Rumors having reached me within the last two weeks that the doctors were being demobilized and returning to nearby towns, I made up my mind that I must find out definitely how much of the work here could be taken care of by the doctors now back. I am very glad to say that I made my decision and called upon these doctors before they called upon us, which evidently from what they told us, they had in mind to do. We found out that the poor are taken care of by the doctors and paid by the government. We explained that we would take no people at the dispensary unless they brought a letter from one of the doctors or the mayor… As we have booked some 25 or 30 cases, exclusive of the tonsils, which grow like mistletoe in France, we have enough to keep us busy for several weeks. This afternoon I had Mrs. Lehman interview the mayor of Luzancy. We told him what we had done. He congratulated us upon the manner in which we had approached the subject and said that a week ago one of those French doctors had met him, and had asked him how long those American women were to take the bread out of the French doctors' mouths. Our mayor told us in emphatic terms that he, the prefect and the people throughout the country knew that if we had not come here when we did the people of this community would be dead and buried, the large majority of them…