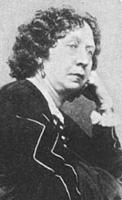 An editorial from an undated newspaper clipping which gives an opinion about female doctors, dating to the early 1850s.
Why It Matters
Because the Female Medical College of Pennsylvania was the first degree-granting medical school exclusively for women, it attracted national attention. Many newspapers all over the country printed news about the women medical students and doctors because they were so rare. Even four years after the founding of Female Medical College, the opinions of female physicians published in newspapers varied greatly between pro- and con, and even women authors were not necessarily supportive of the idea of women doctors.
Analyze this evidence
How does the author of this article feel about women doctors? Are you surprised by the author's opinions? Why or why not?
Listen to this document read aloud
Loading JW Player...
FEMALE PHYSICIANS. – The Boston Journal strongly advocates the introduction of females into the medical profession. We consider the needle a much more appropriate weapon in the hands of woman than the scalpel or bistoury. Do you? Just suppose yourself a forlorn sick bachelor, in the upper story of some noisy boarding house, whose inmates don't care a pinch of snuff whether you conclude to die, or get well. Suppose you've watched that spider in the corner weave his web, till you are quite qualified to make one yourself; suppose you have counted for the thousandth time, all the sheperdesses, distorted little dogs, and crooked trees, on the papered wall of your room; gnawed you finger nails to the very quick; and twitched your mustache till every hair stands up on its own individual responsibility. Then – suppose just as you are at the last gasp, the door opens, gently, and admits (not a great creaking pair of boots, containing an oracular, solemn M.D., grim enough to frighten you into the churchyard) but a smiling rosy cheeked, bright eyed, nice little live woman doctress yet? Well, she pushes back her curls, throws off her shawl (Venus! what a figure!) pulls off her glove, and takes your hand in those little fingers. Holy mother! How your pulse races! She looks at you so compassionately from those soft blue eyes; lays her hand on your forehead, and questions you demurely about your "symptoms," (a few of which she sees without any of your help!) Then she writes a prescription with those dainty little fingers, and tells you to keep very composed and quiet, (just as if you could) smooths the tumbled quilt – arranges your pillow – shades the glaring sunlight from your aching eyes, with an instinctive knowledge of your unspoken wants; and says with the sweetest smile in the world, that she'll "call again in the morning;" and so – the fold of her dress flutters through the door; and then you crawl out of the bed the best way you can – clutch a looking glass to see what the probabilities are that you have made a favorable impression! inwardly resolving (as you replace yourself between the blankets,) not to get quite well as long as she will come to see you. Well, the upshot of it is, you have a delightful lingering attack of heart complaint! For myself, I prefer prescriptions in a masculine hand! I shan't submit my pulse to anything that wears a bonnet!