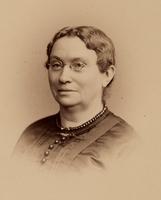 A handwritten autobiography of Dr. Hannah Longshore, describing the challenges she faced in her early years of being a doctor.
Why It Matters
The Female Medical College of Pennsylvania was the first medical school specifically established to grant degrees to women. It opened in 1850, and made it possible for women to formally train as doctors. While such a progressive step forward for women's rights was praised by many people, there were others who were opposed to the idea of educating women and allowing them to practice as professional physicians. Hannah Longshore's autobiography illustrates both the successes and struggles early women doctors experienced.
Loading the Internet Archive BookReader, please wait...
Analyze this evidence
How did some people react to Dr. Hannah Longshore, one of the first woman doctors in Philadelphia? Did they all react the same way?
Listen to this document read aloud
Loading JW Player...
The first women physicians in Philadelphia did not find their paths strewn with flowers, nor their advent welcomed by the general public or by the profession. They encountered no little bitterness, opposition and persecution. The sign on my window shutter attracted the attention of passers by and excited various comment. A woman doctor was a little too much of an innovation to be quietly tolerated. A few weeks after our graduation, I received a call to visit a refined and cultivated woman. I wrote a prescription which when presented to a druggist, he refused to fill it because it was written by a woman and cautioned the bearer against any one risking life in the care of woman healers… A little later the following incident occurred: I went to one of the leading pharmacist to purchase some ounces of drugs, placing my business card on the counter. The proprietor looked at it and then at me and said "I will not sell the drugs to you! You are out of your sphere! Go home and darn you husbands stockings! Housekeeping is the business for women!" I informed him that my house was probably as well kept as his and that the stockings were darned. As a graduate of the Female Medical College, chartered by the Legislature of Pennsylvania, I proposed to practice medicine as long as the women of Philadelphia saw fit to employ me and I had the strength to work.