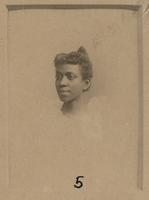 Matilda Evans, an African-American physician practicing in South Carolina, was an 1897 graduate of the Woman's Medical College of Pennsylvania (WMCP). In 1907 she wrote to Alfred Jones, Secretary of Executive Committee of the Board of Corporators of WMCP, to advocate for a scholarship to medical school on behalf of Melissa Thompson, an African-American woman who had studied at Evans' nurse-training school.
Why It Matters
Matilda Evans was an African-American woman physician who attained an uncommon degree of professional and civic success. She established hospitals and a nursing school that both treated and trained African Americans, founded the Negro Health Journal and was elected president of the National Medical Association, an association for black physicians to parallel the white-only American Medical Association (AMA). By 1907 she was secure and confident enough to wield her success on behalf of her protégé, Melissa Thompson, also African American, by recommending her for a scholarship to her alma mater, the Woman's Medical College of Pennsylvania (WMCP). In calling on WMCP to aid Thompson in her quest for a medical education, Evans advocates for Thompson, for herself, and perhaps most notably, for the African American community, claiming that "I need her...the poor people of her race need her." In this way Evans elevated a personal recommendation to a call for social justice; a scholarship for Thompson would not only benefit Thompson, but also the larger African-American community.
Loading the Internet Archive BookReader, please wait...
Analyze this evidence
Why is Evans writing to Jones? What does this tell you about Evans' status as a doctor?
Who is Melissa Thompson?
Why does Evans think Thompson will make a good doctor? Who does Evans say needs Thompson?
Listen to this document read aloud
Loading JW Player...
Dear Sir :-, You may remember me as being the colored student to whom you gave a scholarship in 1893 to The Woman's Medical College of Pennsylvania. I graduated in the class of 1897 and came South and have built up, as I must tell you, a most enviable reputation. I have done well and have a very large practice among all classes of people. I have not lost one day since I left College. I will send you under separate cover a history of my life, written by Dr. G. S. Dickerman and also a small pamphlet telling something about the work in which I am engaged outside of my general practice. It seemed when I came to Columbia that the harvest was ready and waiting for me. The obstacles I did not consider very much and I have had unlimited success. I was the first woman physician to hang out a shingle in this state and I held this honor for eight years. Since I have returned to my native state, others have been inspired and have gone to our beloved College to take degrees. The last case is that of a colored woman, a friend of mine, named Melissa Thompson, in whose behalf I am about to write you. I have known this young woman for nine years and she has been in my nurse-training department and has helped in the dispensary at the hospital. She is a most worthy and reliable woman. Her means are quite limited; but she would be of great service, if she could get a few years in medicine and surgery. I believe that she has made application for a scholarship in The Woman's Medical College of Pennsylvania, and has met with some encouragement. I wish to say further that she will not be able to continue her course without some such aid being given. Her sisters, who are teachers, are sending her their earnings to help her pursue her studies. I would be greatly pleased if you can do something for her. I am sure that she will be of great service to the race and to suffering humanity. I need her greatly in my work. The poor people of her race need her. Thanking you kindly for what you did for me and hoping that you will consider her case, I remain, Yours truly, Matilda Evans, M.D.