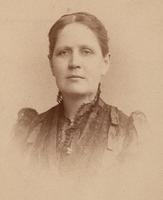 Letter from Clara Marshall to O.W. Whitaker regarding Eliza Anna Grier. Marshall was the dean of the Woman's Medical College of Pennsylvania (WMCP). Whitaker was Bishop of the Philadelphia Archdiocese of the Protestant Episcopal Church, and had written to WMCP seeking a recommendation for Grier, an African American woman who graduated from Woman's Med in 1897. In this letter Marshall replies to Whitaker's inquiry about Eliza's abilities and her standing as a medical student.
Why It Matters
Eliza Grier became a physician at a time when women physicians were relatively rare, and black women physicians were rarer still. Black women seeking admission to medical schools and licensure to practice medicine faced double discrimination: gender and race. Additionally, the funds to obtain a medical education were often out of reach for these women. Grier worked her way through Fisk University, and in an 1890 letter to the Woman's Medical College of Pennsylvania (WMCP), she expressed her desire to be a physician and her fear that she would not be able to afford medical school. She eventually did attend Woman's Med with some financial assistance and graduated in "respectable standing," but as Clara Marshall notes in this letter to Bishop Whitaker, Grier may have been capable of much more had she not had to constantly worry about money -- an issue that college students still face today.
Analyze this evidence
What does Dean Marshall say may have affected the quality of Grier's work as a medical student?
Listen to this document read aloud
Loading JW Player...
My dear Bishop Whitaker, In reply to your favor of January 3rd, I would say that Dr. Eliza Anna Grier had a "respectable standing" as a student of medicine; how much better work she would have done had she not been constantly harassed by want of adequate means of support, it is difficult to say. I see no reason why she should not do good honest work among her own people. Believe me to be, Very respectfully yours, Dean Clara Marshall